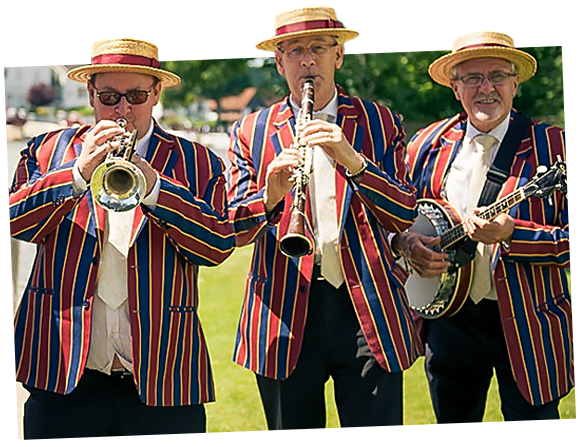 About Burgundy Boater Band
We are a quartet (Trumpet Clarinet/Soprano Sax Banjo & Sousaphone/Bass Sax) playing a mixture of well known jazz blues & popular tunes of the early 20th century in the New Orleans jazz style that appeals to all ages.
The instruments we lay are acoustic (not dependent on electricity) which makes us versatile as we can perform anywhere and easily relocate. We take up little space and play live music for any occasions as quietly or loudly as you wish. As well as our nineteen-twenties style striped blazers, we have evening dress tailcoats for the formal twenties white tie and tails theme.
We can lead processions of wedding guests from ceremony to reception and we have led funeral corteges.
Burgundy Boater Band has played at many venues inside outside concerts shows clubs parties openings, fetes, promotions, jazz festivals, dances, receptions, weddings, funerals, wakes, etc. These have taken place in hotels, village halls, in marquee's, stately homes (including Hampton court), and on ships including HMS Victory.
Apart from performing at over two hundred weddings (and twenty five funerals) ourr clients have included Abbey Road Studios (EMI), B & Q, The Bank of Scotland, Chelsea Building Society, Churchill Retirement Living, Courages, Ericsson, Fortis Insurance, Glaxo Smith Kline, Infinium (Exxon), Lotus software, Ordnance Survey, Sainsbury's, Shooting Times, University of Surrey, University of Winchester.
We are equally at home providing the music at a dinner dance or playing in the background at a reception or party. We have played to all size of audience from 750 people, at Wembley Conference Centre down, to 6 people in our own front rooms!
A typical wedding day could include the band playing gentle background music to entertain the guests on arrival at the wedding or wedding reception while the photos are being taken, then moving to the dance floor to play music for dancing at whatever tempo the guests want. Sometimes we've led the procession of wedding guests from the ceremony to the wedding reception.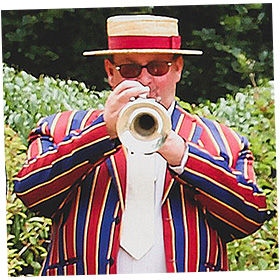 Trumpet & Flugelhorn
Andy Chislett has played at many top venues guesting with Colin Bryant's Hot Rhythm Orchestra, & Bourne Valley Jazzmen, as well as soloist with Chris Smith's String Of Pearls Orchestra, the John Miller Orchestra, and Alan Evans band. He spent 8 years playing on NCL and P&O cruise ships and has performed on many recordings. He has been playing with us since 2003.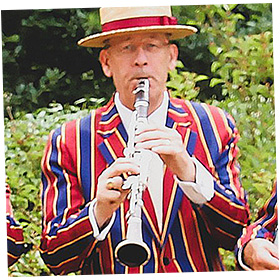 Clarinet
Richard Cook started playing Jazz after leaving the Army in 1982. He ran his own band the Jubilee Jazzmen for ten years which included successful tours of France & Germany. He is an accomplished Alto Sax player, playing lead Alto for Maury Deans Big Band. He joined us at the beginning of 2011.
Either:- Banjo
Doug Kennedy (Banjo) a very experienced player has played with most of the well known London bands and frequently tours Europe has played with us since 2000.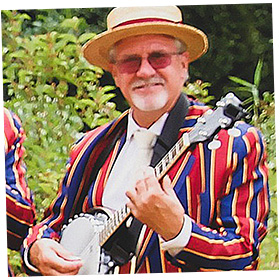 Or:- Banjo & Vocal
Andy Whitaker started as a guitar player and Vocalist in mainstream bands and joined us in 2017.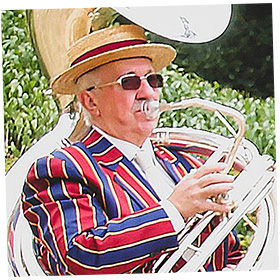 Sousaphone
Martin Jones spent twenty five years playing in a brass band, in 1995 he was invited to join three other musicians to form a jazz quartet, due to the others dropping out Martin found himself left with several engagements and no band! and so the band was formed.